The 156th Great Frederick Fair is September 14th through September 22nd, and as always, there will be lots & lots to do, and a ton of great food to eat!
Mega Pass sales begin August 11th and end Saturday, Sept 15th. The $30 WEIS RETAIL MEGA TICKET includes both admission and wristband to ride ALL day on any ONE day that you choose, Scroll down to see the list of Weis stores where you can pick up your Mega Pass.
Get your tickets now for the great concerts and entertainment during the fair, including:
Gary Allan on Friday night September 14th Presented by A&B Luck Plumbing and Smokin' Joes BBQ, get tickets here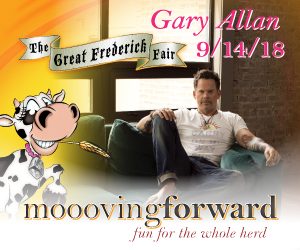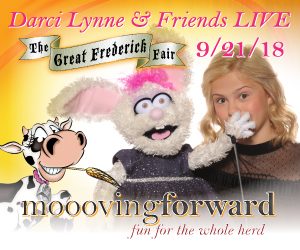 America's Got Talent Winner Darci Lynne & Friends will take the stage on Friday night, September 21st, hosted by Playground Specialists! Click here to get your tickets for this one of a kind show!
And you won't want to miss the incredible Grandstand events the Great Frederick Fair fair has lined up, like…
September 17th – The Tractor & Truck Pull Presented by Krietz Auto Repair & Sales
September 18th – Demolition Derby/Cars Presented by Mark's Equipment Services & McHenry Small Engine
September 19th – Demolition Derby/Trucks & Vans Figure 8 Presented by Mark's Equipment Services & Middletown Valley Heating & Cooling
It's never too early to get your tickets for these and the many more events during the 156th Great Frederick Fair, to see a complete lineup of events, click here!

| | | | | |
| --- | --- | --- | --- | --- |
| 448 Prospect Boulevard | Frederick | MD | 21701 | 301-663-9075 |
| 31 Eastern Boulevard North | Hagerstown | MD | 21740 | 240-420-0472 |
| 2 Old Camp Road & Rt 40 | Frederick | MD | 21702 | 301-473-5385 |
| 1102 North Queen St | Martinsburg | WV | 25401 | 304-263-1515 |
| 199 Thomas Johnson Drive | Frederick | MD | 21702 | 301-662-8065 |
| 1001 Twin Arch Road | Mount Airy | MD | 21771 | 301-829-1071 |
| 26075 Ridge Road | Damascus | MD | 20872 | 301-253-9787 |
| 6093 Spring Ridge Pkwy | Frederick | MD | 21701 | 301-631-8162 |
| 12817 Shank Farm Way | Hagerstown | MD | 21742 | 301-665-9485 |
| 700 Chase Six Blvd. | Boonsboro | MD | 21713 | 301-432-3950 |
| 2 Thurmont Blvd. | Thurmont | MD | 21788 | 301-271-4028 |
| 217 Oak Lee Drive, Suite 15 | Ranson | WV | 25438 | 304-725-9559 |
| 1201 Dutchman's Creek Drive | Brunswick | MD | 21716 | 301-834-4800 |
| 15300 Mcmullen Hwy SW | Cumberland | MD | 21502 | 301-729-3419 |
| 17600 Old National Sq Pike | Frostburg | MD | 21532 | 301-689-6847 |