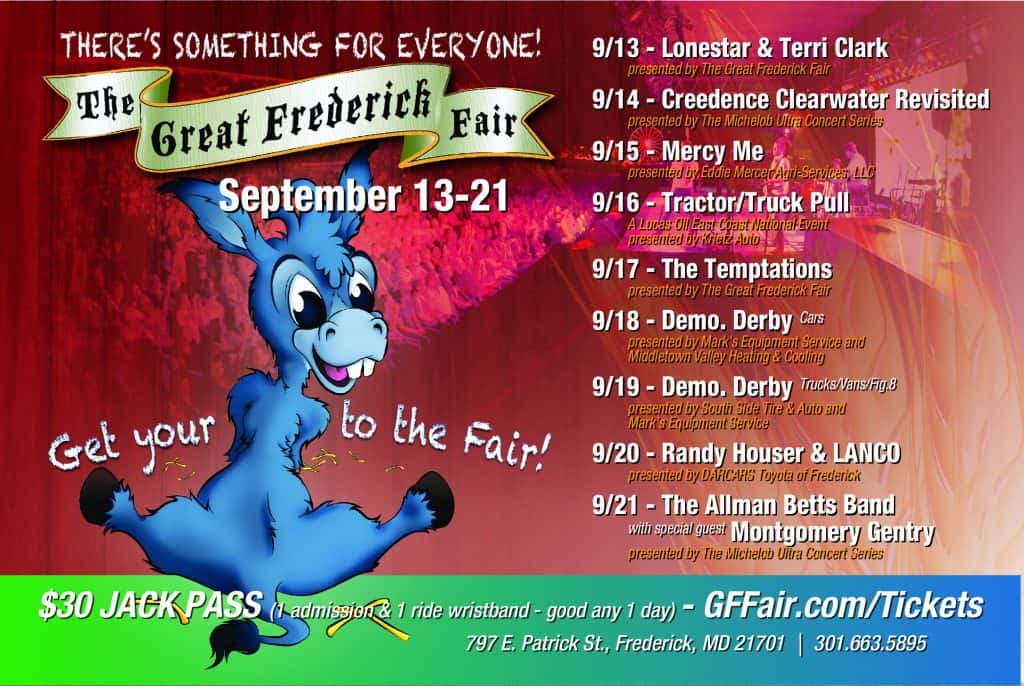 The 2019 Great Frederick Fair Entertainment Line-Up is On Sale
157th Annual Great Frederick Fair, September 13-21
FREDERICK, MD — May 30, 2019 The Great Frederick Fair continues to bring great entertainment to the Visit Frederick Grandstand Stage. In recent years, Contemporary Christian artists and a family-entertainment feature were added to the plan. This year, for the first time, the Fair is bringing the legendary sounds of Motown to its lineup.
"The Great Frederick Fair has something for everyone!" said, Jim Grimes, Chair of the Entertainment Committee. "Putting together nine nights of entertainment is an extraordinary task, we are very proud of this year's schedule. We will have on-track seating for every concert and continue to offer lower seat pricing in the annex." This year, beer sales will also be a part of concessions for each event.
Beginning May 31st at 1:57pm, all tickets will be available online at www.GFFair.com/tickets or contact the Box Office Tuesdays and Thursdays from 11:00am – 2:00pm at 301-695-3928.
The Great Frederick Fair's 2019 lineup brings together Old, New and Americana Country, Classic and Southern Rock, three nights of thrilling Motorsports and Contemporary Christian music at affordable prices. For online ticket information about the following shows, visit: www.GFFAIR.com/Tickets
• Friday, Sept. 13: Lonestar and Terri Clark, presented by The Great Frederick Fair: T/$55, G/$50, A/$25
• Saturday, Sept. 14: Creedence Clearwater Revisited, presented as part of the Michelob Ultra (Saturday nights) Concert Series: T/$45, G/$40, A/$30
• Sunday, Sept. 15: Mercy Me, presented by Eddie Mercer Agri-Services, Inc.: T/$55, G/$50, A/$25
• Monday, Sept.16: kick off the week with the Lucas Oil, East Coast National Truck and Tractor Pull, presented by Krietz Auto: G/$23, A/$18 • Tuesday, Sept. 17: The Temptations, presented by The Great Frederick Fair: T/$40, G/$35, A/$25
• Back to back nights of smash up Demolition Derbies:
o Wednesday, Sept. 18: Mark's Equipment Service and Middletown Valley Heating and Cooling present the Demolition Derby: Cars: G/$23, A/$18
o Thursday, Sept. 19: South Side Tire & Auto and Mark's Equipment Service sponsor the Demolition Derby: Trucks, Vans and Figure 8: G/$23, A/$18
• Friday, Sept. 20: Randy Houser and LANCO, presented by DARCARS Toyota of Frederick: T/$45, G/$40, A/$30
• Saturday Sept. 21: The Allman Betts Band with Special Guest Montgomery Gentry presented as part of the Fair's Michelob Ultra (Saturday nights) Concert Series. T/$45, G/$40, A/$30 Complete information is available on the Fair's website: www.thegreatfrederickfair.com and is also available on the Great Frederick Fair's Facebook page!