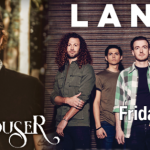 On Friday, September 20th, the Great Frederick Fair hossts Randy Houser and LANCO and you could win tickets to the 7:30pm show.
Randy Houser is a man refreshed. "I don't know how it happened, but everything in my life has started lining up," says the Lake, Mississippi native. "I must have done somebody right in the past."
Those positive vibes of renewal ripple through Houser's three consecutive No. 1 hits, "How Country Feels," "Runnin' Outta Moonlight" and "Goodnight Kiss," which recently became Houser's first No. 1 as a songwriter though he has written numerous hits for artists over the years. "How Country Feels" was his first-ever No. 1 at radio, and both it and "Runnin' Outta Moonlight" earned RIAA Platinum certifications. All three songs are from Houser's Stoney Creek Records debut, How Country Feels, which was released in early 2013. Upon release, the title track and lead single sparked a wildfire of accolades and media appearances including: CONAN, NBC Nightly News, NBC Weekend Today, CBS's "On The Couch," FOX & Friends, Better TV and many more. It also gave Houser his first American Country Award for Most Played Radio Track: Male in 2013.
Houser's past contains no shortage of achievement, as it includes multiple nominations for ACM and CMA Awards, a No. 2 single in the form of "Boots On," and songwriting credits for major names such as Trace Adkins, Justin Moore and Chris Young. In 2008—mere months after the release of his debut single, "Anything Goes"—Houser was even asked by David Letterman himself to appear on The Late Show. The singer's first full-length album, Anything Goes, came out later that year, followed in 2010 by They Call Me Cadillac which spawned hit "Whistlin' Dixie," and fan-favorite "A Man Like Me."
New tracks on How Country Feels echo the title single's sunny self-assurance, including "We're Just Growing Younger" and "Along for the Ride," which Houser co-wrote with Zac Brown. "We were playing a festival and I just had this song rolling around in my head," Houser remembers of the latter. "I stayed up till about 5 in the morning but then got stuck. So I called up Zac and we went on his bus and knocked it out of the park."
And since the release of How Country Feels, critics have echoed those claims in reviews, with MSN writing "Houser is hands down one of the best male vocalists in Nashville," and quoting Dierks Bentley as saying, "It's kind of ridiculous how good of a singer he is."
Still, the heart of the album—of Houser's entire outlook right now—remains the story of a man who's moved through darkness into light. "I feel like I've reached such a special moment," he says, and it's a true pleasure to hear him inside it.
LANCO is an American country music band consisting of Brandon Lancaster (lead vocals), Chandler Baldwin (bass guitar), Jared Hampton (keyboards), Tripp Howell (drums), and Eric Steedly (guitar). The band is signed to Arista Nashville. The band's name is short for Lancaster and Company.
The band was founded in 2015. After meeting record producer Jay Joyce at a Keith Urban concert, they signed to his publishing company, and then to Arista Nashville. Through the label, they released their debut four-song EP, titled Extended Play on April 15, 2016. They also released their first single from the album, "Long Live Tonight", and another one of their songs, "Greatest Love Story", appears in the Netflix series The Ranch as well as season 22 of ABC's The Bachelor. "Greatest Love Story" reached No. 1 on the Hot Country Songs and Country Airplay charts at the end of 2017.
In December 2017, Sony Nashville announced the band's third single, "Born to Love You". It and "Greatest Love Story" appear on their debut album Hallelujah Nights, which was released in January 2018.
To win, enter your details below.