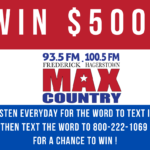 MAX Country is giving you a chance to win $500 in cash! And it's easy!
Every weekday, MAX announces a winning text word to qualify you to win $500.
Once you hear the it, text the word to 800-222-1069 and you're in the running to win $500 in cash. Also, one winner each weekday will be chosen to win 10 Maryland Lottery Scratch Offs.
So tune in weekdays for your chance to win!