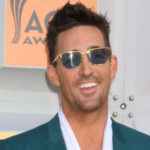 Jake Owen has released the video for "1×1." Directed by Ryan Smith, the video shows Owen strumming an acoustic guitar against a floor-to-ceiling video wall, lit up with vignettes that showcase the moments and memories that make life worth living. Owen's fiancé and two daughters, Pearl and Paris, joined him on set for filming.
Said Owen: "The second I heard '1×1' it resonated with me, and I knew that I wanted to be a part of it. Working with Spidey to make this song soar on screen was a great experience, and having my family there made it even more meaningful. It's sentimental and fun and tells a story; I'm excited to share it with you today." 
Owen is currentlly on the road with his Up There Down Here Tour through this fall.   Take a look at the video for "1×1"- here.
https://tasteofcountry.com/jake-owen-1×1-music-video/
Editorial credit: Kathy Hutchins / Shutterstock.com